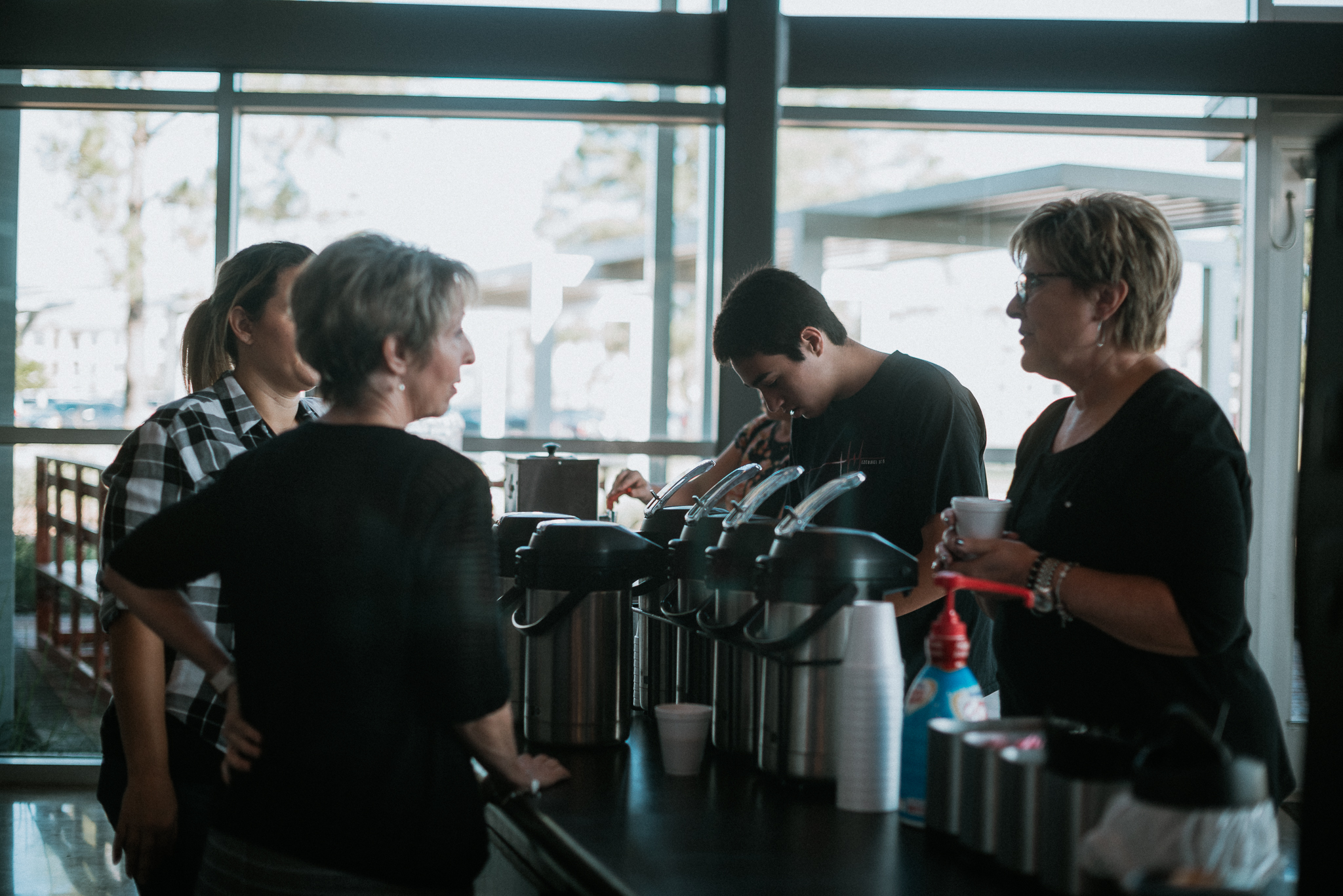 HOW CAN I SERVE AS A CPCREW?
SERVE TO MAKE A DIFFERENCE!
At CrossPoint we serve to make a difference in the lives and communities around us. If you have an interest or passion in any
of our serving opportunities, CrossPoint would love for you to join any of our teams.
Questions? email info@crosspt.org
HOSPITALITY
The goal of CrossPoint's Hospitality team is to provide that sense of warmth and kindness on Sunday mornings through setting out food/drinks and helping set up special events.
GREETERS
The greeting team's job is to simply welcome, say hello and help connect people each week. It is this first impression that helps our guests feel at home. We have outside and inside greeting teams that serve every other Sunday during one service.
CONNECTIONS CREW
Sometimes it's that little extra something that makes you feel at home. This team interacts with new guests on Sundays and is able to provide them resources to acclimate to life here at CrossPoint.
KIDS AND YOUTH
Our NextGen Ministry involves opportunities to serve in large group teaching, worship, serving events, Bible Studies, small groups, one-on-one mentoring, and administrative assistance. Teams serve during one service on Sundays twice a month for pre-k and elementary and on Wednesday evenings for junior high.
WORSHIP AND TECH CREW
Includes singing praises and playing instruments to running lights and designing sets
Questions? email worship@crosspt.org
SOCIAL MEDIA
By serving on our social media team, you'll help us convey God's work being done at CrossPoint and tell stories that connect people with Jesus through Facebook and Instagram posts.
ESL
By volunteering as an ESL teacher or helper, you can help reach out to the Katy community. ESL classes begin each Spring and Fall on Wednesday and Thursday evenings 6 - 9 PM. No teaching or language experience is necessary. Serve one or both days.
Questions?, email esl@crosspt.org
PRAYER TEAM & LAY COUNSELING
By offering prayer on Sunday mornings, answering on-line needs for care and prayer request.
FACILITIES CREW
Our Facilities team helps with everything from touching up paint, fixing furniture, replacing fixtures and even stacking chairs on a Sunday morning. In short, our facilities team keeps this place looking great and saves thousands of dollars for God's mission.
SUPPER & SHOWERS CREW
CrossPoint & Hope Impact join together to love our homeless community in the Katy Area. An evening to be the hands and feet God, serving one another through hot showers and meals. By volunteering you are helping our CP Outreach team by helping those in need in donating a meal or just serving with the team in handing out meals as well as clean up.
Questions?, email outreach@crosspt.org
SAFETY/MEDICAL CREW
We serve physical needs and spiritual needs of those whom God brings to CrossPoint. We connect in loving ways with people and also attend to any physical needs that may arise...just as Jesus modeled for us in the parable of the Good Samaritan, Luke 10:25-37.
If you want to serve in this way, if you have any medical skills or background, safety skills or background, or would love to be trained to serve in this capacity, we are looking for folks to "wear the orange shirt"! We furnish basic training and have crew meetings to grow together in service to the CrossPoint Community.
Crew Leader: John Adkins
GATHERING TIMES | 9:30 & 11 AM
700 WESTGREEN BLVD | KATY, TX 77450