SUNDAY WORSHIP BAND | CROSSPOINT CHOIR | TECH & LIGHTING CREW | STAGE DESIGN | CALL TO WORSHIP
REHERSALS
THURSDAYS 6:30 - 8:30 PM
MISSION STATEMENT
The Worship Arts Ministry at Crosspoint seeks to be a teachable community of imperfect artists relentlessly loving and serving like Jesus and transforming the world around us.
VALUES:
The Worship Arts Ministry follows the values of LIVE | TRAIN | SERVE. We do life together through personal prayer and support outside of Sunday mornings and function as family. We strive to always be learning and growing as followers of Jesus and in excellence as musicians. And we seek to serve not only on Sunday mornings through sharing our time and talents, but also through other opportunities in the church and community at large.
About the Sunday Worship Band:
At Crosspoint, our Sunday worship gatherings are a chance for the whole community to come together and worship Jesus and learn from His Word. As a worship band, we believe that we are all lead worshippers. We are not the focal point of the service nor entertainment. We exist on a Sunday morning to lead others to Jesus. We believe there is power in worship and see in Scripture battles won and city walls fall because of it. We step out on a Sunday morning believing we are more than musicians and vocalists. We feel the weight of the call to lead people to Jesus and to take the first steps onto the spiritual battlefield.
Biblical Foundation:
"He appointed those who were to sing to the Lord and praise him in holy attire, as they went before the army, and say, "Give thanks to the Lord, for his steadfast love endures forever." 2 Chronicles 20:21
About Crosspoint Choir:
We believe the choir setting most accurately displays what worship will be like in heaven: a multitude of voices singing praise to the Lord! Choir is on special Sundays throughout the year. Rehearsal takes place on the Thursday prior to that Sunday from 6:15-8:15. The choir is open to people of all ages and levels of experience. We'd love to have you!
Biblical Foundation:
"Let the word of Christ dwell in you richly, teaching and admonishing one another in all wisdom, singing psalms and hymns and spiritual songs, with thankfulness in your hearts to God." Colossians 3:16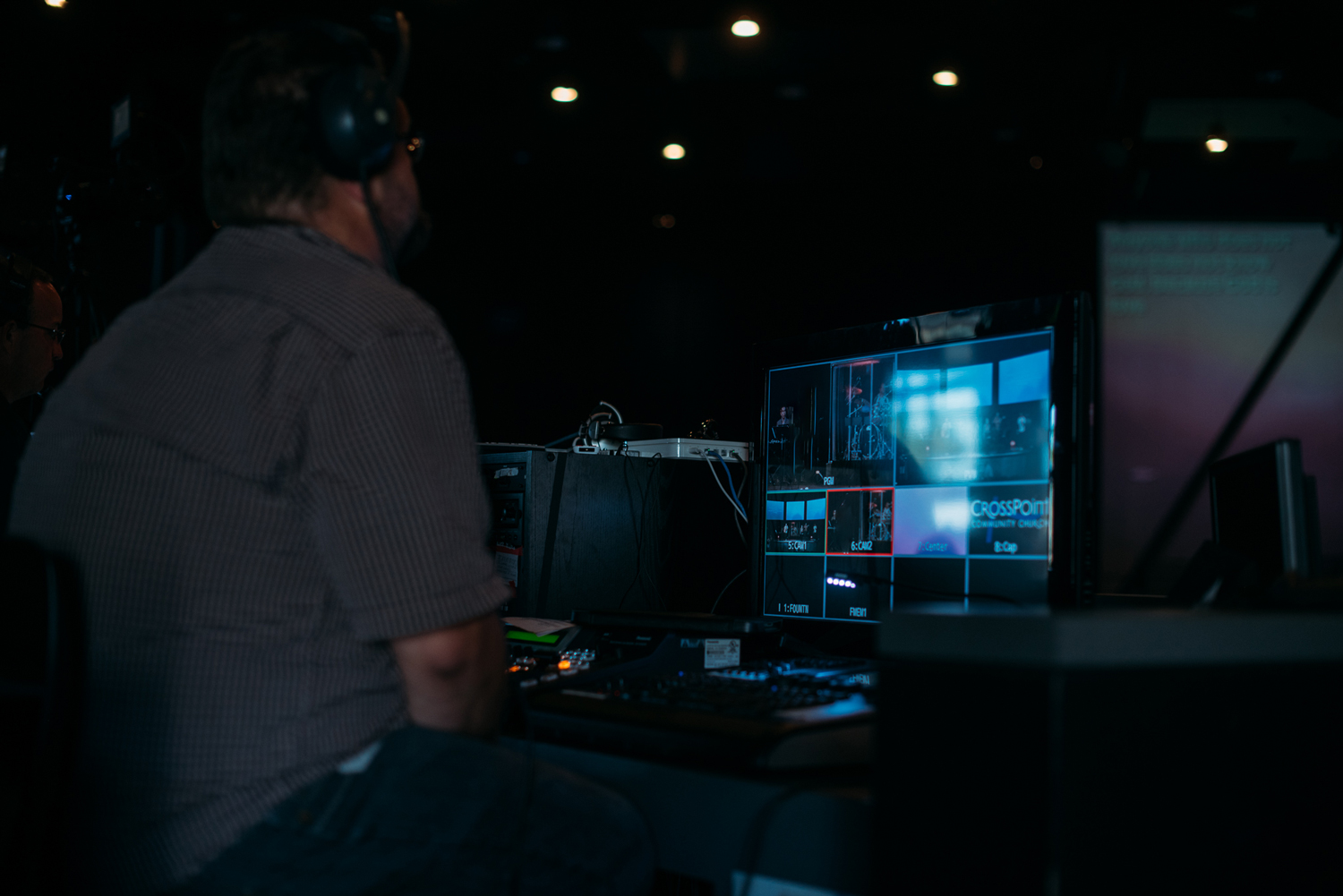 About the Tech and Lighting Crew:
What happens on a Sunday morning during the worship service would not be possible without our Tech and Lighting Crew. These amazing volunteers work together behind the scenes to make the service run smoothly and avoid unnecessary distractions. We believe that just like the other areas of ministry on a Sunday morning, our tech and lighting crew's purpose is to lead people to Jesus. Learning the dance and art of sound, lighting, and powerpoint displays the beauty of Jesus and can move hearts into worship of Him.
Biblical Foundation:
"One thing have I asked of the Lord, that will I seek after: that I may dwell in the house of the Lord all the days of my life, to gaze upon the beauty of the Lord and to inquire in his temple." Psalm 27:4
About the Stage Design Team:
The Crosspoint Stage Design Team strives to lead people to Jesus by providing unique stage designs on a Sunday morning. We believe that as God equipped His people with skill to build the Tabernacle of the Old Testament, so he today gives His people skills and abilities to make beautiful and intriguing art that glorifies God.
Biblical Foundation:
Exodus 35:35 "He has filled him with skill to do every sort of work done by an engraver or by a designer or by an embroiderer in blue and purple and scarlet yarns and fine twined linen, or by a weaver- by any sort of workman or skilled designer."
About Call to Worship:
Call to Worship is a quarterly gathering to call the whole community together for an extended time of worship and to call new members to our worship arts team. Our evening begins with a time of worship and prayer. The second half of the evening those interested in serving on our team can stay and get a chance to sing/play with others, push buttons in the tech booth, or just hang out and ask more questions.
Biblical Foundation:
"Oh come, let us worship and bow down: let us kneel before the Lord, our maker!" Psalm 95:6
GATHERING TIMES | 9:30 & 11 AM
700 WESTGREEN BLVD | KATY, TX 77450